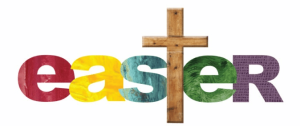 Prayer Meeting: Monday 3 April at 7.30pm
Maundy Thursday "Jesus in the Passover" Service: 6 April at 7.30pm
Passover is the most important Jewish festival and tells of God's redemptive love and power for his people. It's also very "visual" and the various symbols that are shown, eaten or drunk, are rich with meaning, recalling the escape of the Israelites from Egypt and also pointing to what Jesus has done for us all. We will explore how the symbols relate not only to the original story and also how they have fulfilment in their meaning through Yeshua (Jesus), giving us a deeper understanding of God's love, compassion and power.
Good Friday Reflections: 7 April at 9.00am, followed by refreshments and hot cross buns
In this service our focus will be to: "Look at the Cross"
Easter Sunday Resurrection Celebration: 10 April at 10.30am, followed by refreshments and hot cross buns
Please see our calendar for further information,