RSS is the way that millions of web users around the world keep track of their favourite websites.
In the 'old days' of the web to keep track of updates on a website you had to 'bookmark' websites in your browser and manually return to them on a regular basis to see what had been added.
RSS Changes Everything
RSS provides you with a way to get relevant and up to date information sent to you for you to read in your own time. It saves you time and helps you to get the information you want quickly after it was published.
RSS stands for 'Really Simple Syndication'. Many people describe it as a 'news feed' that you subscribe to.

It's like subscribing to a magazine that is delivered to you periodically but instead of it coming in your physical mail box, it is delivered to your 'RSS Reader' every time your favourite website updates.
How to Use RSS – as simple as 1 – 2 – read
1. Get an RSS Reader
The first thing you'll want to do if you're getting into reading sites via RSS is to get yourself an RSS Feed Reader.
There are many feed readers going around with a variety of approaches and features – however a good place to start is with a couple of free and easy to use web based ones like Google Reader.  Or you can use your email client, like Outlook, Windows Live Mail or Thunderbird.
The best way to learn how to use Google Reader is to simply subscribe to some feeds and give it a go.
2. Find some feeds to subscribe to
Over the last few years you may have noticed a lot of little buttons and widgets appearing on your favourite sites and blogs. Little orange buttons, 'counters' with how many 'readers a blog has, links called RSS, XML, ATOM and many more.
They come in all shapes and sizes: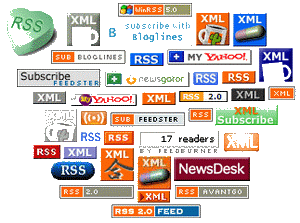 You could start by click on our feed:  https://godmanchesterbaptist.org/feed/
Any time you see any of these buttons or anything like them it means that the site you are viewing almost certainly has a feed that you can subscribe to. In most cases it's as simple as either copying and pasting the link associated with the button into your RSS Reader or clicking the button and following the instructions to subscribe using the feed reader of your choice.
3. Read

Many internet browsers now have the ability to find and subscribe to RSS feeds built right into them.
You can usually tell if a site has an RSS feed by looking for the orange icon.
Here's how it looks for Godmanchester Baptist Church when you're using Internet Explorer :
Other modern browsers will have similar icons.
To quickly and easily subscribe by clicking these icons you'll want to set up your browser to do it with your feed reader of choice as by default they will probably subscribe you using the in-browser reader. You can do this by going to the 'preferences' to your browser and choosing 'Google Reader' as your feed reader.
Once you've done this and have subscribed to a few feeds you'll begin to see unread items in your Feed Reader and you can start reading.
Don't want to use an RSS Reader? Email is an option
If the above explanation all just seems a little too complicated for you then please don't worry. Many sites also enable you to subscribe to RSS feeds via a more familiar medium – Email.
At GBC, we know that not everyone is into the RSS thing so at the top right-hand corner of our site, there is email icon.  This will send you an email when a new page or post is published.